The best real Christmas trees for sale
Here are the most popular and best Christmas trees for the festive season. These are always huge hits with our customers, so make sure you pre-order your real Christmas trees online from Christmas Trees Direct in plenty of time.
Fraser Fir Christmas Tree
Sizes
4ft; 5ft; 6ft; 7ft; 8ft
There's no Christmas tree that's quite as timeless as the Fraser Fir.

This real Christmas tree is densely built, with a classic shape and plenty of strong branches for hanging opulent decorations. The needles are a unique silver-green colour with roughly 900-1,200 tips per tree. Without a doubt, this is one of our most popular Christmas tree types this year. The silver elegance of the Fraser Fir is just astounding, and you will love decorating this tree in your home.

The Fraser Fir Christmas tree has a citrusy sweet pine scent that fills the air, 100 times more refreshing than any scented candle could provide. One key element that's often overlooked with real Christmas tree types is the needle shed rate. But the Fraser Fir does not disappoint here. It has a very low shed rate, retaining those lush silver-green needles throughout Christmas for up to six weeks. Choosing a Fraser Fir means spending more time enjoying Christmas and less time tidying up after it.

Ultimately, the Fraser Fir is unquestionably an excellent choice this festive season. This real tree is freshly cut in the UK close to Christmas, for a fresh scent and long-lasting classic Christmas tree spirit.

Shop now from £69.99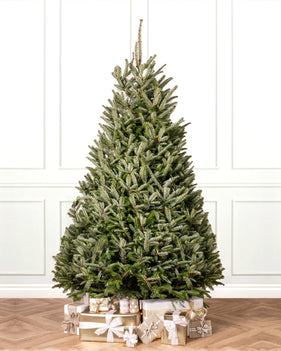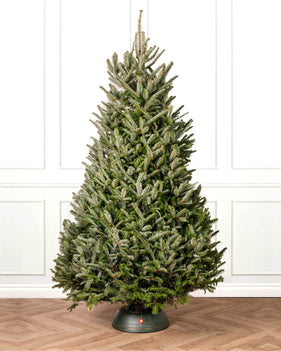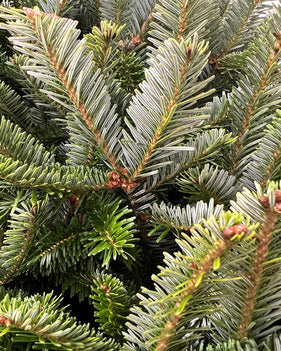 Nordmann Fir Natural Christmas Tree
Sizes
4ft; 5ft; 6ft; 7ft; 8ft
Needle retention
Very good
A Nordmann Fir Christmas tree is always a visual spectacle. Perfectly symmetrical with soft needles, it's the kind of Christmas tree you dreamed of decorating as a kid. Live the Christmas dream this year with a Nordmann Fir.

The Nordmann tree has an aromatic pine scent that emanates from the soft, mid-green needles. Gentle on little fingers, kids love decorating the rigid branches of the Nordmann Fir. With a classic shape, a star or fairy is just waiting to be perched on the highest branch. All our real Christmas trees for delivery are sent right to your doorstep for the festive season. Grown and cut in the UK, our Nordmann Firs have a notoriously low needle drop rate and can last up to 5 weeks in your home over Christmas.

There's nothing quite like the magic that a real, freshly cut Christmas tree brings to your home at Christmas time. Let the Nordmann Fir show you what true Christmas spirit is this year.
Shop now from £59.99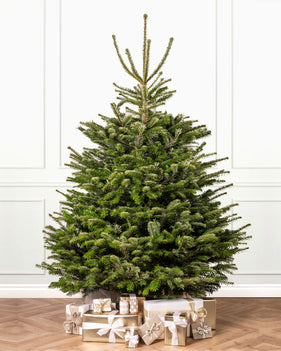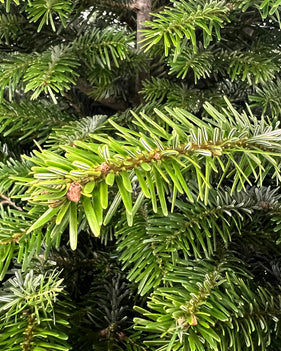 Norway Spruce Christmas Tree
Sizes
4ft; 5ft; 6ft; 7ft; 8ft
Needle retention
Very good
A Norway Spruce Christmas tree, with lush dark green needles and a classic pyramid shape, is the quintessential Christmas tree. You cannot go wrong with this real Christmas tree this year.

The Norway Spruce has a certain charm, with its strong Christmas tree scent and full branches. It spindles out from the central trunk, providing a myriad of places to hand delicate baubles and glittering ornaments. With around 900-1,200 tips per tree, this Christmas tree is vibrant with foliage. The low shed rate ensures that those needles will cling to the tree over December with minimal shedding too.

This real Christmas tree for delivery is a true classic. Grown in the UK and cut fresh for Christmas, it's a vibrant and healthy alternative to the faux Christmas trees that are slowly diminishing the environment – and our Christmas spirit.

Choose a Norway Spruce for your home this year and enjoy the delicious aroma, the joy of decorating a totally unique tree, and experiencing the timeless delight of Christmas as a family. All our real Christmas trees are delivered directly to your front door, ready to spruce up your home and get the festive season off to a truly merry start.
Shop now from £54.99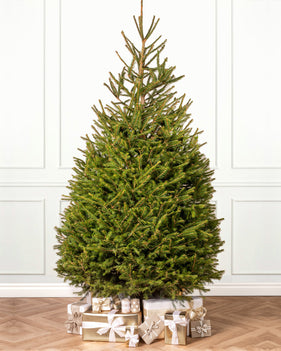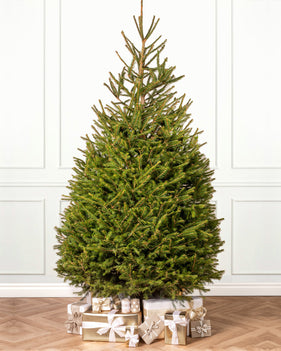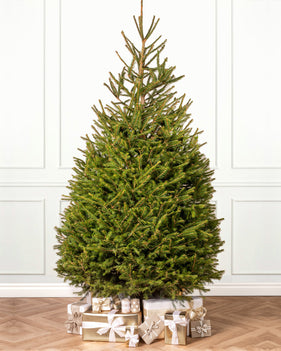 Other types of Christmas Trees to consider
If our top 3 didn't catch your eye, don't worry. There are many different types of Christmas trees available. Here are another 3 that might be worth considering.

Remember, if you're buying a cut Christmas trees online, you'll need to cut a few inches off the stump when it arrives to help it take up water and stay healthy after transit.

Make sure you pick up a real Christmas tree stand when you check out with you chosen real Christmas tree.
Blue Spruce Christmas Tree

The Blue Spruce Christmas tree is a modern classic with frosty elegance. The blue sheen to the glossy needles of the Blue Spruce is truly unique and will make this Christmas just that little bit more magical.

A Blue Spruce potted Christmas tree is long-lasting, remaining rigid and bright for two weeks or more in your home. Suitable for outdoor use, the Blue Spruce is easy to keep fresh and lively with infrequent watering. Part of the beauty of a living pot-grown Blue Spruce is the aroma. Unlike a faux tree, this cool-shaded tree emits a gentle pine aroma that fills your home with that iconic Christmas scent.

Picea Glauca Conica

The Picea glauca 'Conica' Christmas tree, also known as the White Spruce, is a gorgeous frosty white Christmas tree that's incredibly popular this year. With a perfectly conical shape and a white frost tint to the soft green needles, it's one of the most elegant tree varieties available.

Picea glauca 'Conica' graces your home with a gentle pine scent, making that festive feeling a little bit brighter as we get closer to December 25th. The potted Picea glauca 'Conica' can look rustic, traditional, or modern depending on your décor choice. With strings of white LEDs, it really glimmers in the Christmas lights.

Scots Pine Christmas tree

The Scots Pine Christmas tree is a wonderful pick for those looking for classic holiday charm. With its rich green needles and fresh pine scent, it'll bring the joyful spirit of the season right into your living room.

More and more people are falling in love with the traditional look and feel of the Scots Pine. Its bright green needles shine under the twinkle of Christmas lights and will make your favourite ornaments look even more special. Plus, this real Christmas tree won't lose its needles quickly, keeping your home neat and hassle-free during the holidays—a real gift in itself! So, if you're after that real, fresh, and aromatic Christmas tree experience, the Scots Pine is the way to go.