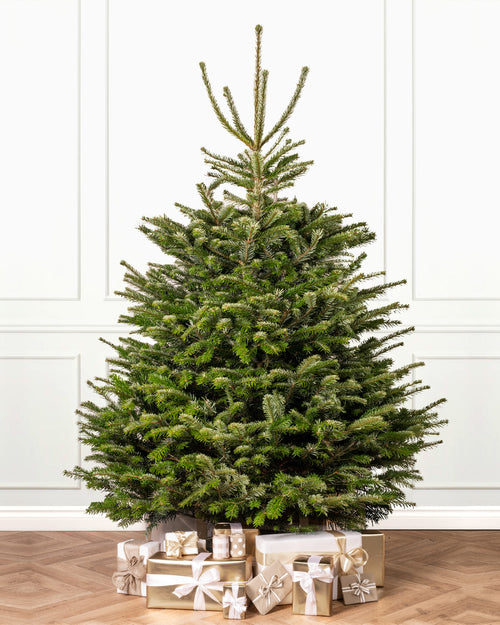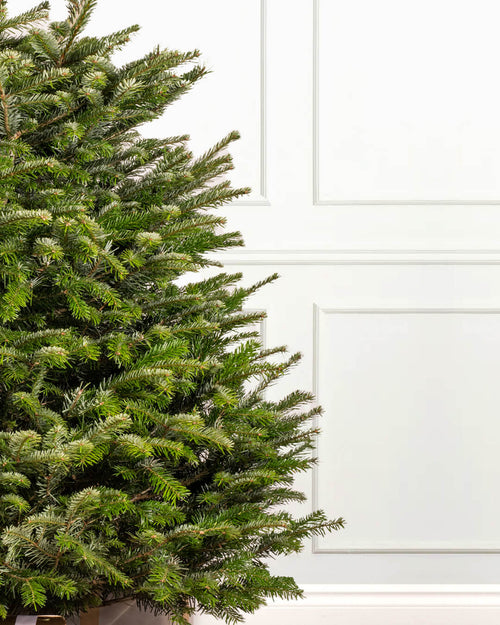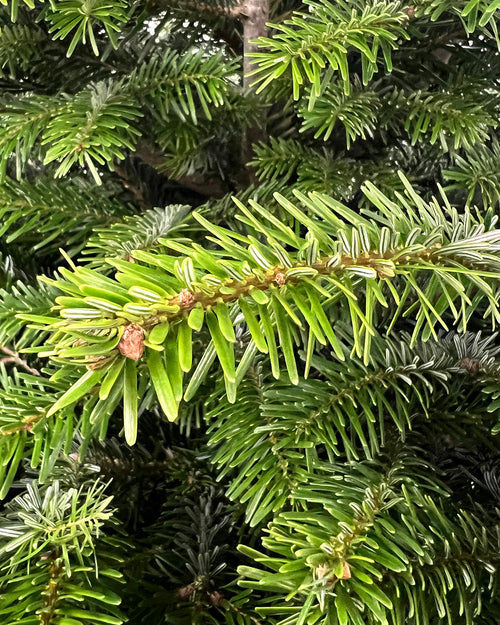 Nordmann Fir Fresh Cut Christmas Trees
The Nordmann tree is a traditional real Christmas tree, with a symmetrical shape and classic green colour that never fails to bring the festive spirit into your home.
Add a stand (optional)

Cinco Advantage 6ft Christmas Tree Stand

Cinco Advantage 6ft Christmas Tree Stand
Add lights (optional)

500 Lights

500 Warm White LED Christmas Tree Lights

500 Lights

500 Cool White LED Christmas Tree Lights

500 Lights

500 Multicoloured LED Christmas Tree Lights
How does scheduled free delivery work?
More info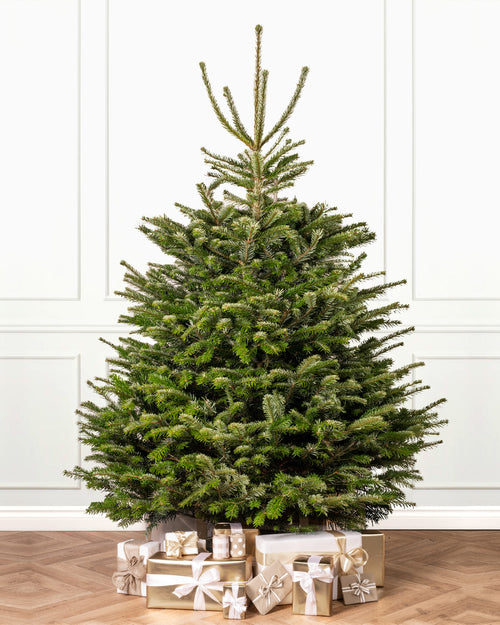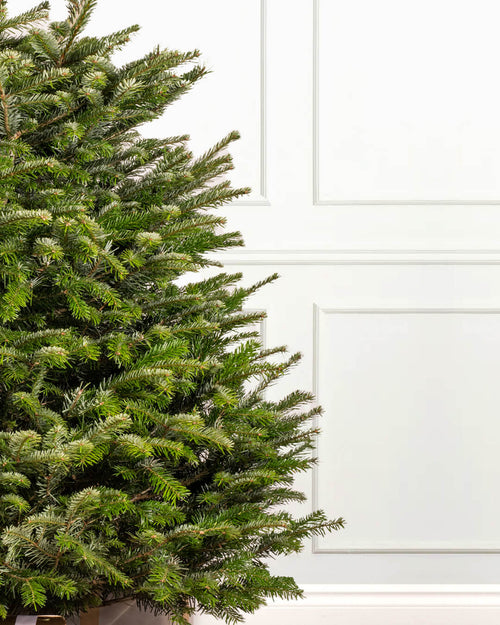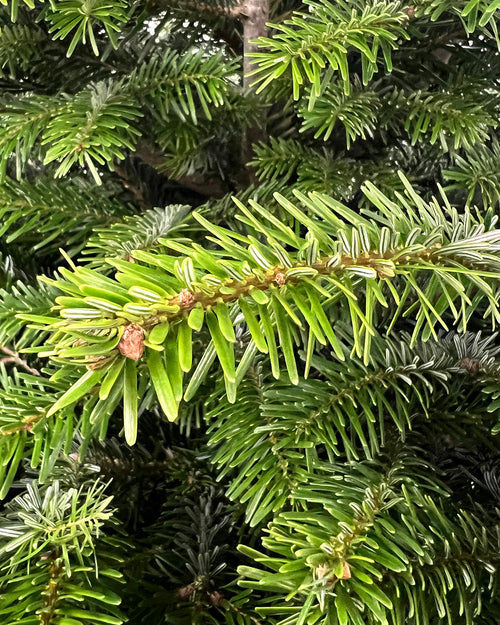 Height

4ft; 5ft; 6ft; 7ft: 8ft

Branch details

900 - 1,200 tips

Pet+child friendly

Soft needles About Nordmann Fir Christmas Trees
The Nordmann Fir Christmas tree has a real sense of tradition. The perfectly symmetrical shape and muted pine scent will instantly take you back to the Christmas of your childhood. It's no wonder that this is one of the best-selling Christmas trees. With a glossy sheen to the foliage and a calming fragrance, it's a truly wonderful tree to select this year.

Adorn with soft needles, this tree is native to the bitterly cold Russian Caucasus, where it can grow up to 200 feet tall. We freshly cut our Nordmann Firs here in the UK, from 4 feet to 8 feet in height, to ensure they remain sprightly and fresh throughout the Christmas season.

Our Nordmann Fir real Christmas trees are as notorious for being low maintenance as they are for being beautiful to behold. The soft needles are unwilling to drop, staying lush on the firm branches of a well-cared for tree for up to 5 weeks before beginning to curl backwards. This is a tree that will instantly bring an exciting Christmassy feeling to any home. Simply place it on a stand and decorate it lavishly with lights and trinkets for a timeless Christmas tree look.
Read our guide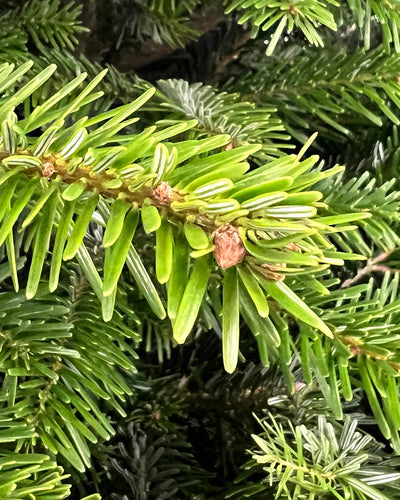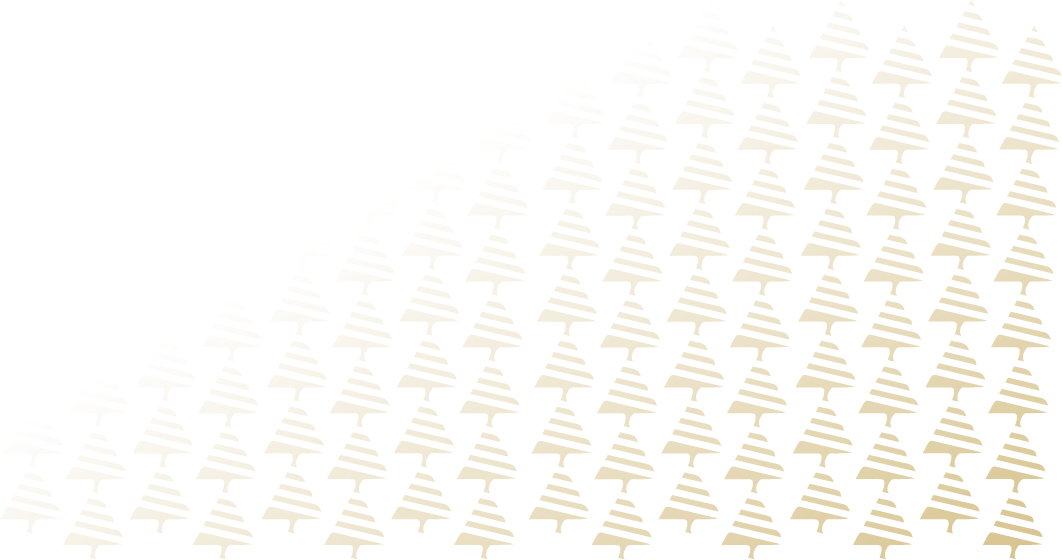 About Cut Christmas Trees
A pot-grown Christmas tree is an effortless way to create a traditional Christmas this year. Easy to decorate and even easier to maintain, the pot-grown tree is a brilliant way to bring a festive feeling to your garden.

Germinated and nurtured in the UK, each pot-grown Christmas tree is delivered in its own pot. If you keep your tree in its pot, remember to water it regularly to keep it looking fresh. Most pot-grown trees have a life of approximately 2-weeks when stored indoors, at which point the needles may begin to tremble! Move the tree outdoors to keep your Christmas tree growing year on year.

Our trees are available in multiple sizes, from small dwarf trees that are ideal for table décor to large 6-foot potted Christmas trees. All these potted Christmas tree varieties are average or low shedding, meaning they'll retain their waxy soft needles throughout the season. For our tips on how to look after your pot grown tree, read our blog.
Read more