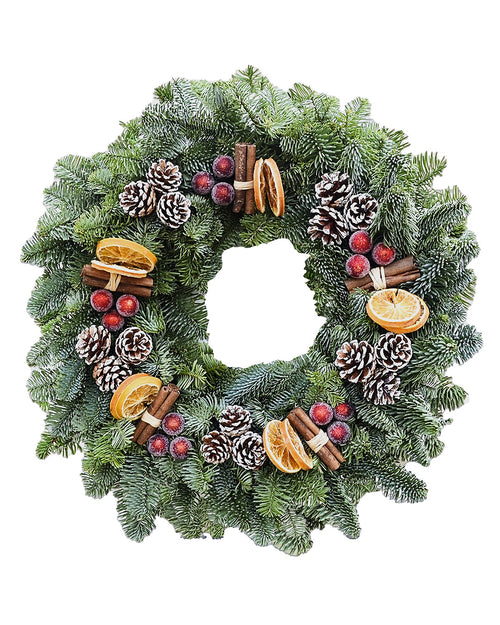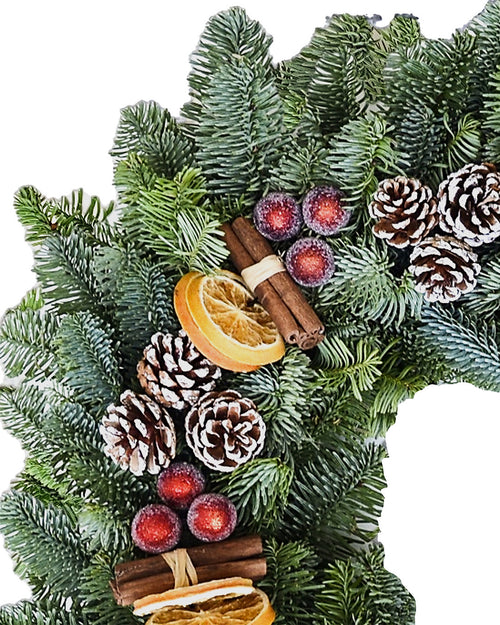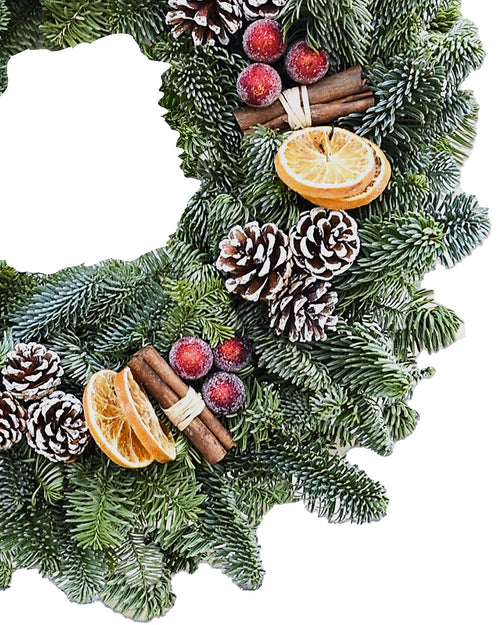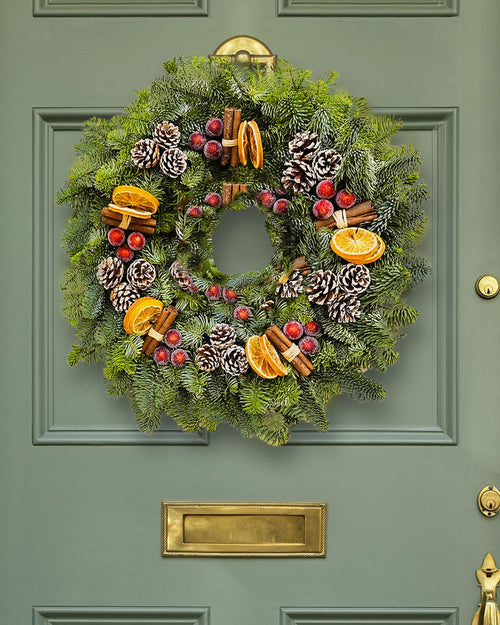 Cinnamon Spice Christmas Wreath - Luxury Natural
The Cinnamon Spice Christmas Wreath brings all the warmth of the season to your festive display. Traditional foliage is accompanied by some of the simplest, yet beautiful accents of the season.
Add lights (optional)

500 Lights

500 Warm White LED Christmas Tree Lights

500 Lights

500 Cool White LED Christmas Tree Lights

500 Lights

500 Multicoloured LED Christmas Tree Lights
Delivery information
More info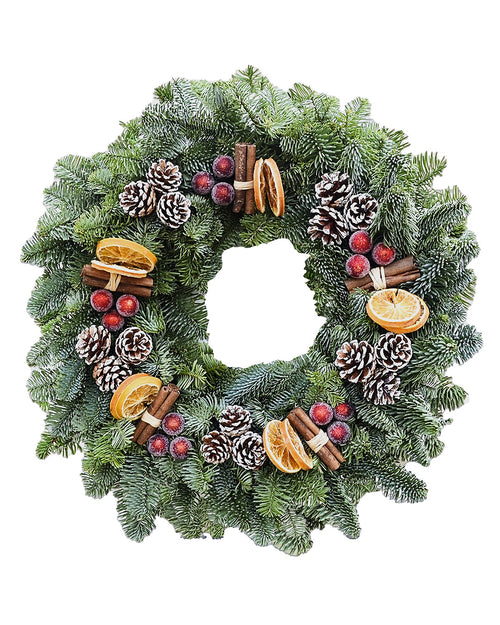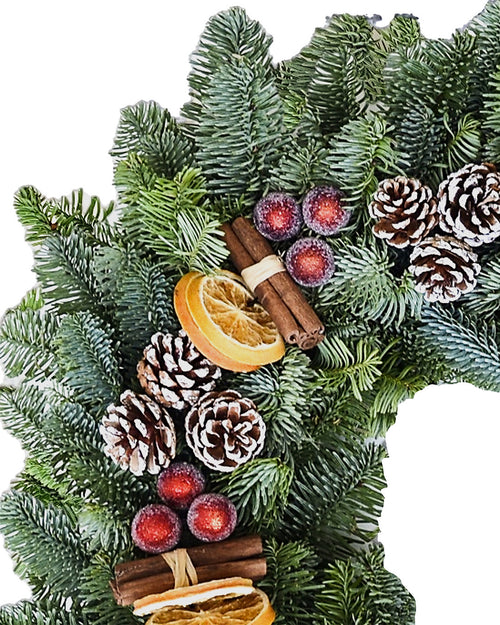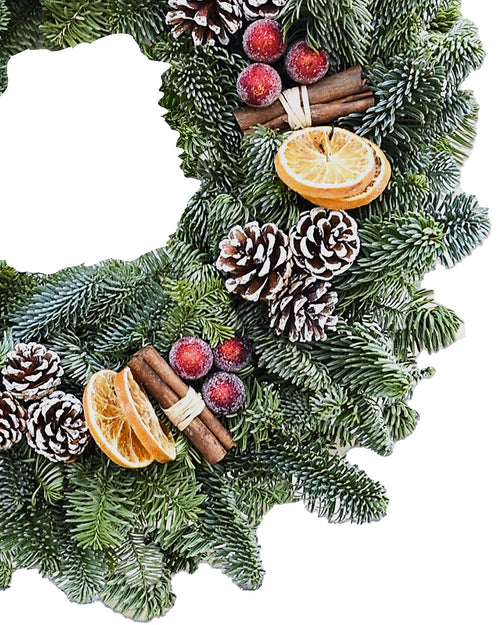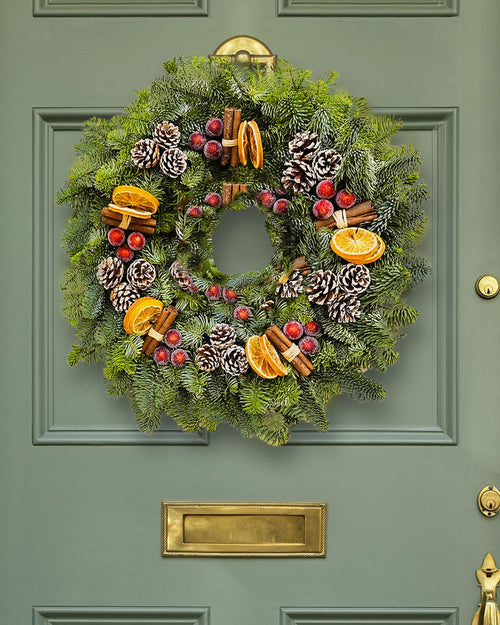 Wreath diameter

35cm (14") About Cinnamon Spice Christmas Wreaths
There's no sight that evokes the feeling of Christmas more than seeing a Christmas wreath hung upon a door. This beautifully crafted Christmas door wreath is made with elegant fir branches, creating a deeply scented decorative item. Cinnamon sticks are accompanied by winter fruits and pinecones, adding all the warmth of a mulled wine to some classic green foliage.

You can tell when you're looking at a real spruce wreath, the dark glossy needles and aromatic scent are impossible to recreate with faux materials. This Christmas wreath measures 35cm across and is ready to hang as soon as it arrives. You could even use our glittering strings of lights to customise it further.

The spruce Christmas wreath is woven into a sturdy base, ensuring the slender branches stay firmly in place wherever you hang the wreath – indoors or out. The spruce clippings used are harvested from our UK-based Christmas tree farms, freshly cut to ensure that your wreath lasts throughout the season with vibrant lush green needles firmly attached.
Read more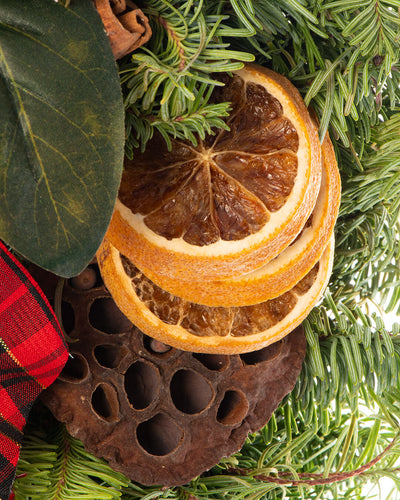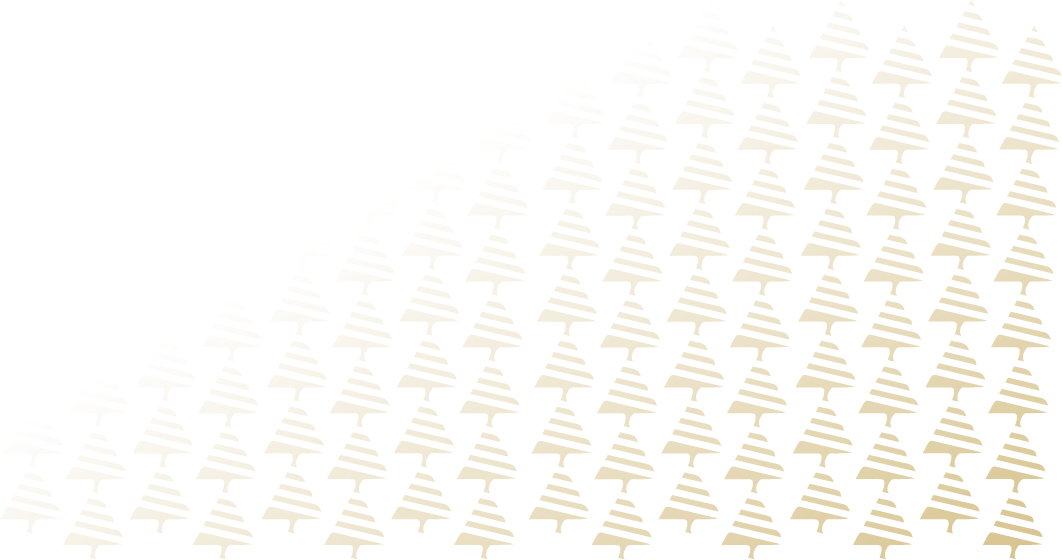 About Real Christmas Wreaths
A pot-grown Christmas tree is an effortless way to create a traditional Christmas this year. Easy to decorate and even easier to maintain, the pot-grown tree is a brilliant way to bring a festive feeling to your garden.

Germinated and nurtured in the UK, each pot-grown Christmas tree is delivered in its own pot. If you keep your tree in its pot, remember to water it regularly to keep it looking fresh. Most pot-grown trees have a life of approximately 2-weeks when stored indoors, at which point the needles may begin to tremble! Move the tree outdoors to keep your Christmas tree growing year on year.

Our trees are available in multiple sizes, from small dwarf trees that are ideal for table décor to large 6-foot potted Christmas trees. All these potted Christmas tree varieties are average or low shedding, meaning they'll retain their waxy soft needles throughout the season. For our tips on how to look after your pot grown tree, read our blog.
Read more