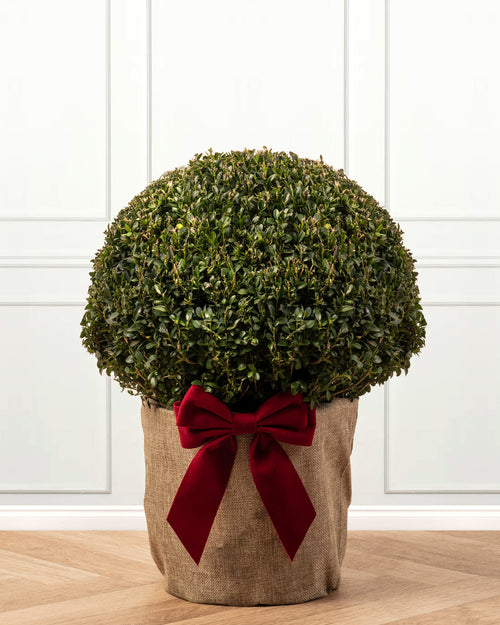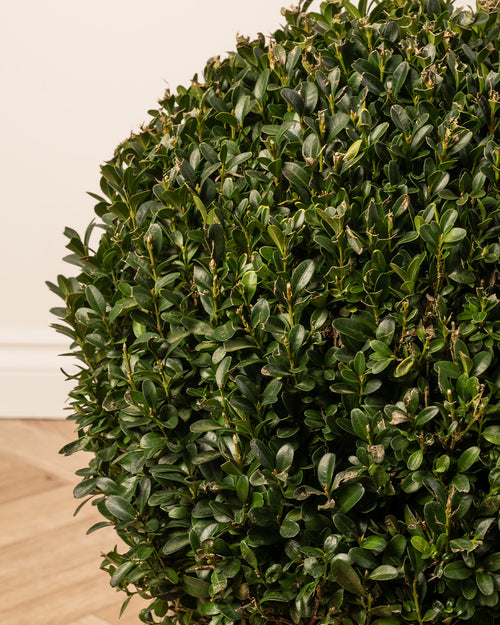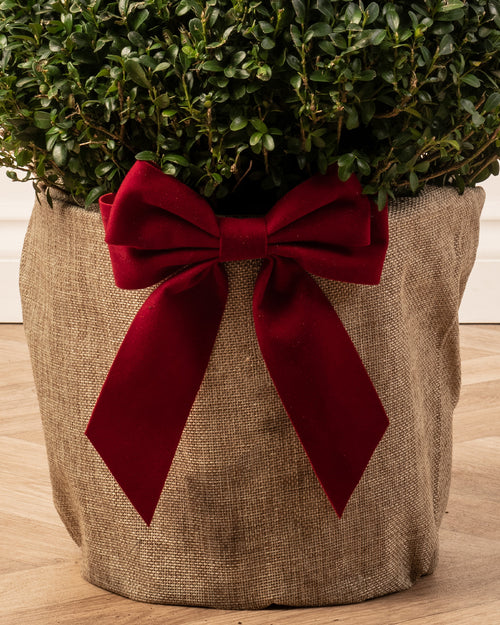 Box Buxus Topiary Ball with Christmas Gift Wrap
A classic Buxus garden bush in a ball shape, perfect for adding some sleek foliage. The rustic gift bag and classy red bow add a touch of subtle Christmas magic. An elegant garden gift which can be enjoyed long after the festive season has passed.
Add lights (optional)

500 Lights

500 Warm White LED Christmas Tree Lights

500 Lights

500 Cool White LED Christmas Tree Lights

500 Lights

500 Multicoloured LED Christmas Tree Lights
Add a wreath (optional)

Frosty Foliage Christmas Wreath - Luxury Natural

Frosty Foliage Christmas Wreath - Luxury Natural

DIY Holly Wreath
Delivery information
More info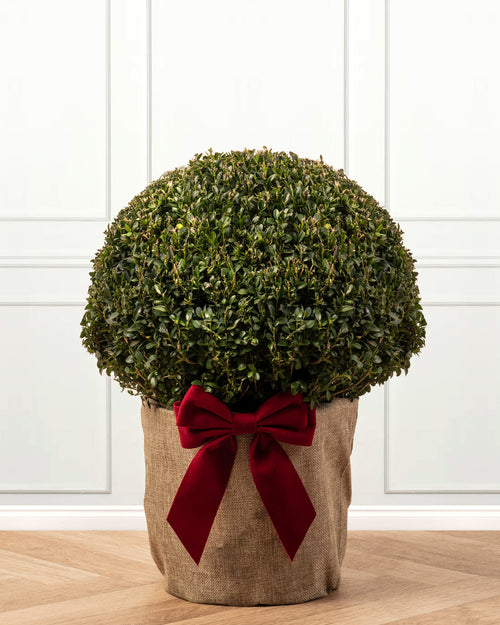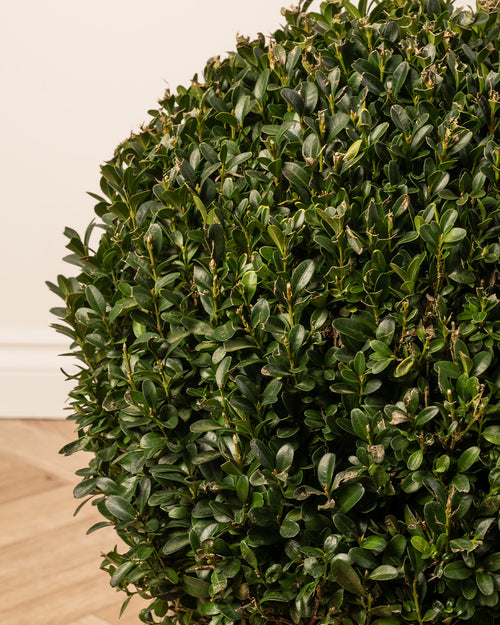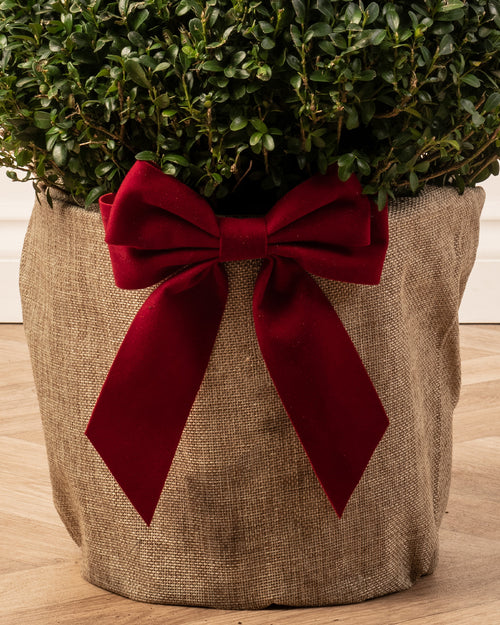 Foliage

Glossy, dark green About Box Buxus Topiary Balls
Buxus Balls are a great way to add year-round colour and interest to your garden. Their foliage is evergreen, meaning the glossy, dark green foliage is a constant throughout all seasons. Flowering also appears in Spring when clusters of small yellow flowers begin to bloom. Being easy to care for is a benefit to most gardeners, and these can offer that due to their hardiness that allows them to withstand the coldest of UK temperatures.

Buxus has always been a popular choice to include in gardens across the country as they are very low maintenance. They require a little pruning once or twice a year to maintain their size and shape.

These shrubs will happily reside in a pot to complement patios, driveways and entrances. If potted, they must be watered regularly during dry spells and rotated every so often to ensure sure each part gets even sunlight.
Read more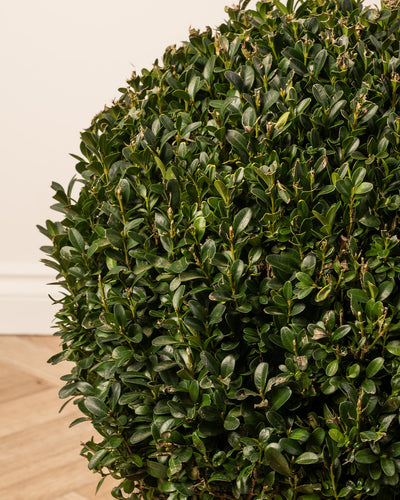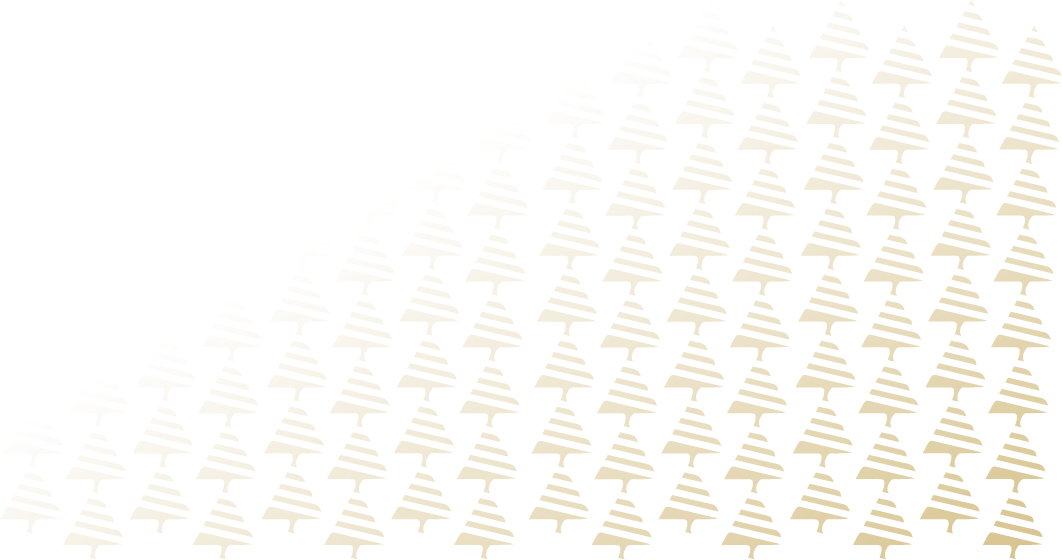 About Cut Trees
A pot-grown Christmas tree is an effortless way to create a traditional Christmas this year. Easy to decorate and even easier to maintain, the pot-grown tree is a brilliant way to bring a festive feeling to your garden.

Germinated and nurtured in the UK, each pot-grown Christmas tree is delivered in its own pot. If you keep your tree in its pot, remember to water it regularly to keep it looking fresh. Most pot-grown trees have a life of approximately 2-weeks when stored indoors, at which point the needles may begin to tremble! Move the tree outdoors to keep your Christmas tree growing year on year.

Our trees are available in multiple sizes, from small dwarf trees that are ideal for table décor to large 6-foot potted Christmas trees. All these potted Christmas tree varieties are average or low shedding, meaning they'll retain their waxy soft needles throughout the season. For our tips on how to look after your pot grown tree, read our blog.
Read more