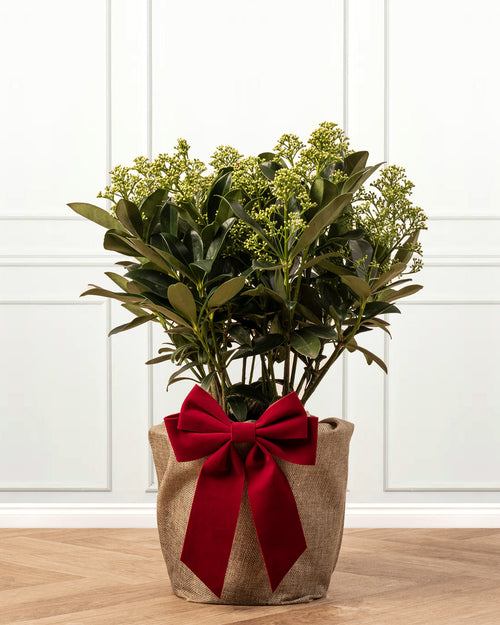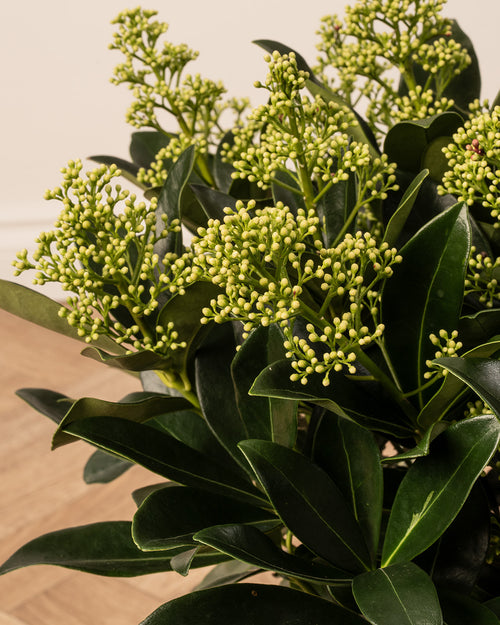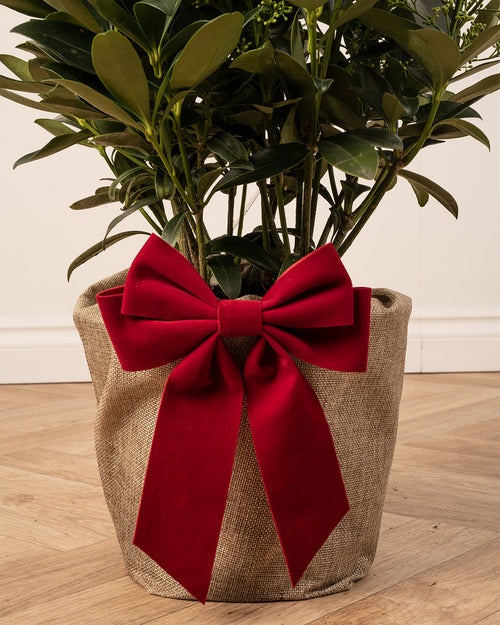 Skimmia Finchy Plant with Christmas Gift Wrap
A beautifully bushy plant with creamy white flowers that bloom in abundance during Spring. Complete with a gift bag and seasonal red bow, this plant would make a beautiful Christmas gift for the plant lover in your life to enjoy long after the season has passed.
Add lights (optional)

500 Lights

500 Warm White LED Christmas Tree Lights

500 Lights

500 Cool White LED Christmas Tree Lights

500 Lights

500 Multicoloured LED Christmas Tree Lights
Add a wreath (optional)

Frosty Foliage Christmas Wreath - Luxury Natural

Frosty Foliage Christmas Wreath - Luxury Natural

DIY Holly Wreath
Delivery information
More info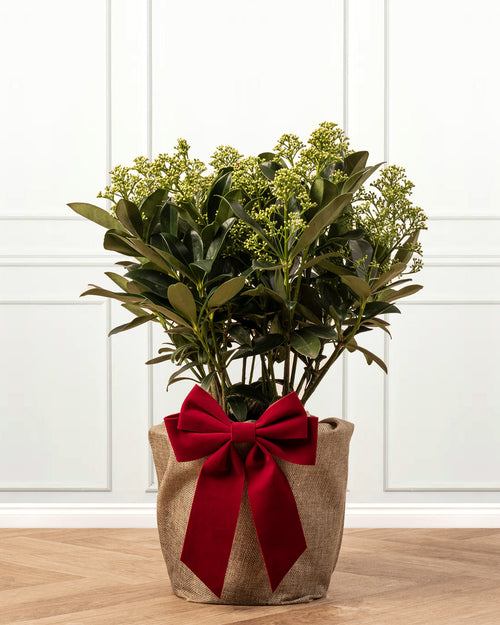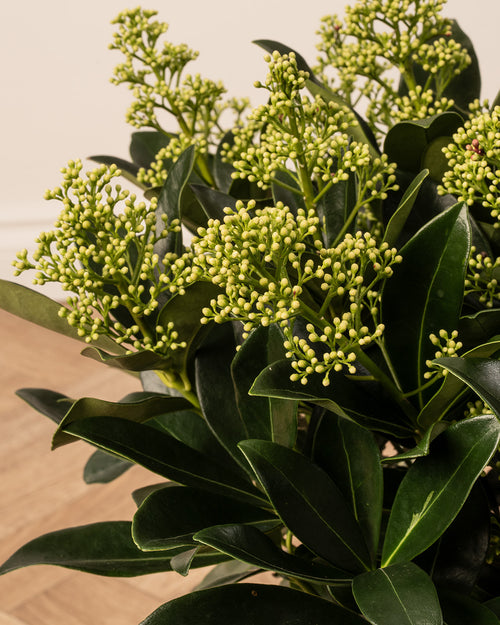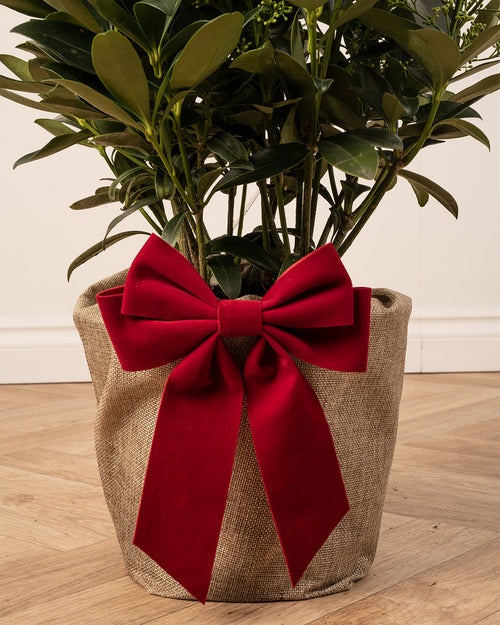 Foliage

Glossy, dark green

Fragrance

Scented flowers About Skimmia Plants
The Skimmia 'Finchy' is an enchanting evergreen shrub, renowned for its vibrant, deep green leaves, bringing a refreshing lushness to any garden setting. In the frosty embrace of winter, it develops tight clusters of buds, transforming into fragrant blooms with the arrival of spring. This plant is especially prized for infusing elegance and lively ambience in gardens during the latter part of the year, ensuring your garden remains a haven of beauty and tranquillity even in cooler temperatures.

Positioning Skimmia 'Finchy' in partial shade is vital, as it prefers to be sheltered from the intense rays of the full sun. It thrives in moist, well-drained soil conditions and requires consistent watering, particularly during the first year of growth and in periods of dryness. This diligent care ensures the plant's vigour and abundant flowering when the seasons turn.

Skimmia 'Finchy' is more than just a visual delight; it serves an ecological purpose by attracting diverse pollinators when in bloom. It is a splendid choice for those desiring to enrich their gardens with sophisticated charm while fostering a supportive environment for the surrounding fauna. Whether displayed as a singular beauty or paired harmoniously within mixed borders, Skimmia 'Finchy' promises to captivate the senses, adding aromatic allure and vivid colour to your outdoor space.
Read more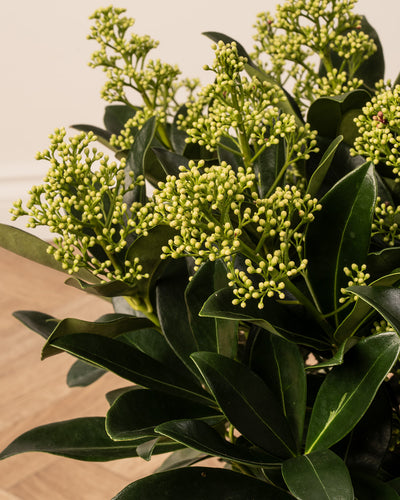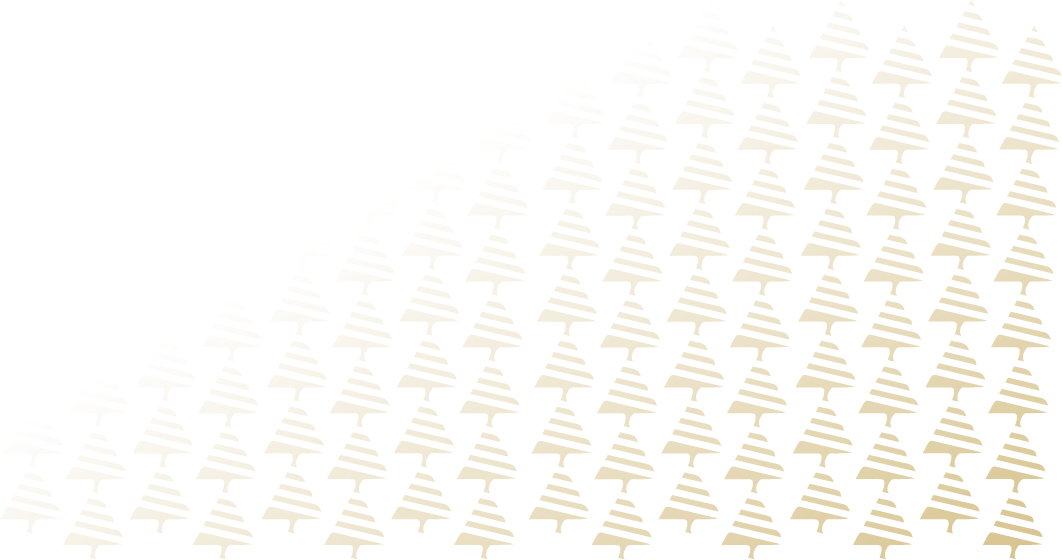 About Cut Christmas Trees
A pot-grown Christmas tree is an effortless way to create a traditional Christmas this year. Easy to decorate and even easier to maintain, the pot-grown tree is a brilliant way to bring a festive feeling to your garden.

Germinated and nurtured in the UK, each pot-grown Christmas tree is delivered in its own pot. If you keep your tree in its pot, remember to water it regularly to keep it looking fresh. Most pot-grown trees have a life of approximately 2-weeks when stored indoors, at which point the needles may begin to tremble! Move the tree outdoors to keep your Christmas tree growing year on year.

Our trees are available in multiple sizes, from small dwarf trees that are ideal for table décor to large 6-foot potted Christmas trees. All these potted Christmas tree varieties are average or low shedding, meaning they'll retain their waxy soft needles throughout the season. For our tips on how to look after your pot grown tree, read our blog.
Read more