Pot for illustrative purposes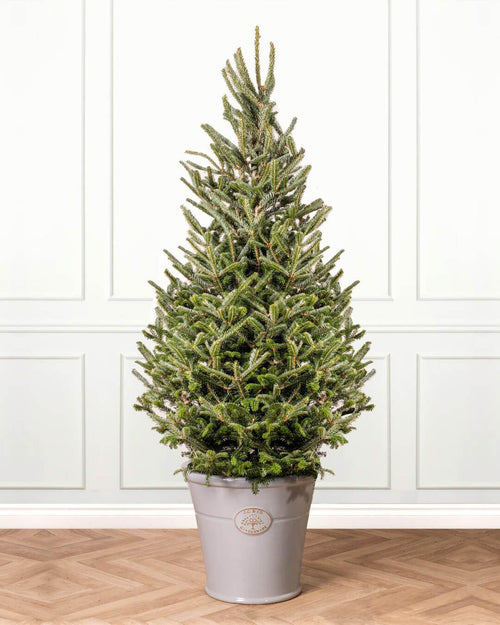 Pot for illustrative purposes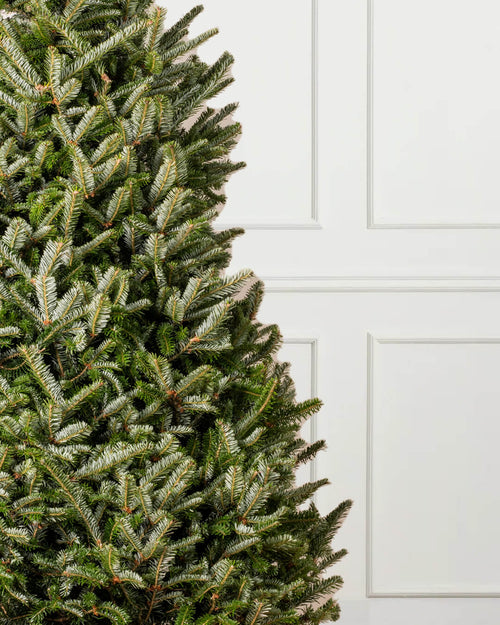 Pot for illustrative purposes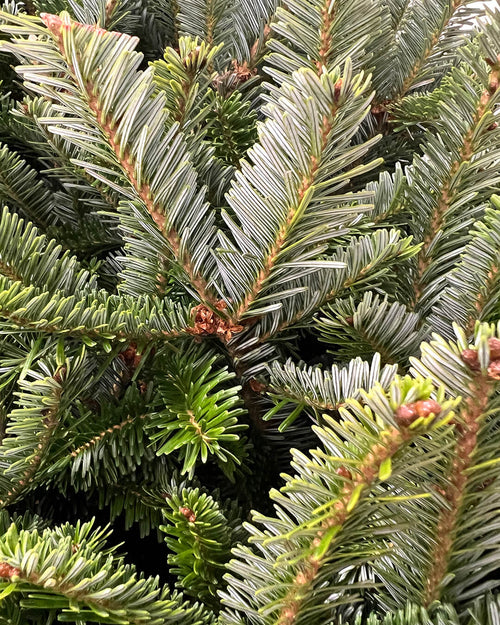 Fraser Fir Pot Grown Christmas Trees
The Fraser Fir potted Christmas tree is strong, compact, and has thick green foliage perfect for your glittering Christmas decorations. Enjoy a potted Fraser Fir this festive season.
Add lights (optional)

500 Lights

500 Warm White LED Christmas Tree Lights

500 Lights

500 Cool White LED Christmas Tree Lights

500 Lights

500 Multicoloured LED Christmas Tree Lights
Add a wreath (optional)

Frosty Foliage Christmas Wreath - Luxury Natural

Frosty Foliage Christmas Wreath - Luxury Natural

DIY Holly Wreath
How does scheduled free delivery work?
More info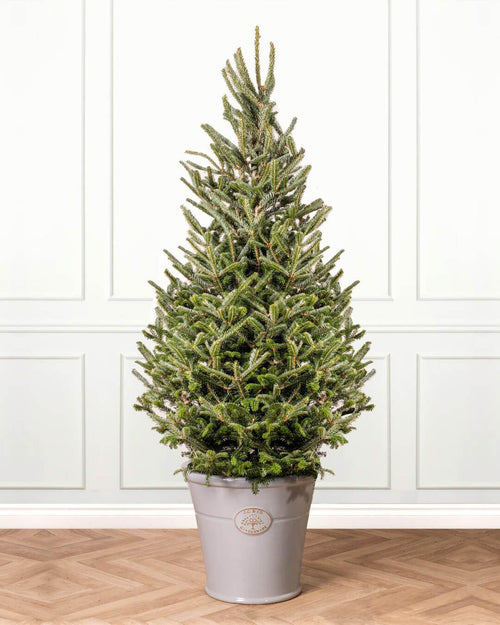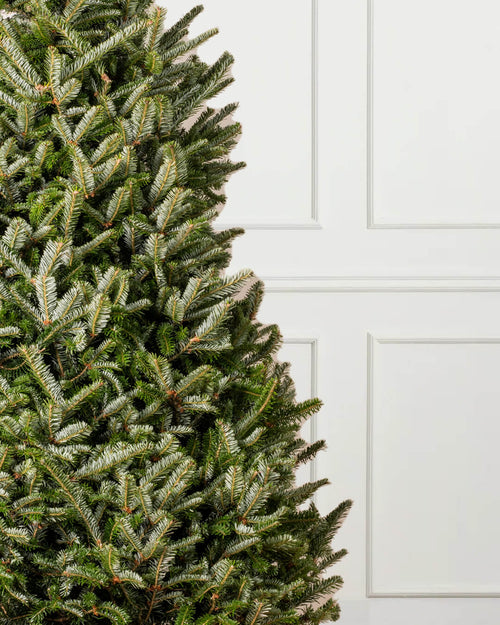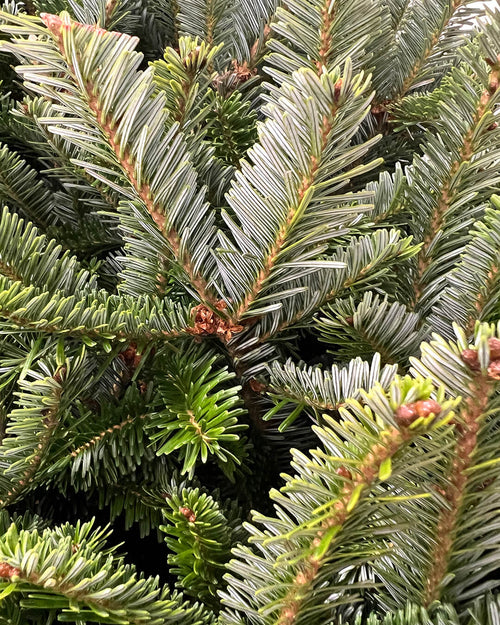 Height

2ft; 3ft; 4ft; 5ft; 6ft

Branch details

500 - 700 Tips

Pet+child friendly

Soft and flat needles About Fraser Fir Pot Grown Christmas Trees
For a classy, elegant Christmas, the Fraser Fir Christmas tree is a perfect choice. With flawless silver-green foliage and a thick shape to hold copious amounts of decadent decorations, it's an excellent choice this year.

Growing natively in the cool mountainous regions of the south-eastern United States, the Fraser Fir is an iconic Christmas tree. Our pot-grown Fraser Fir trees in the UK have a distinctive scent that will have you breathing deeply to greedily inhale the crisp citrus edge. Permeating throughout your home, this tree really brings a sense of Christmas calmness throughout the season. A potted Christmas tree enables you to enjoy the delights of a real Christmas tree with a very low needle shed. Keep it watered for a vibrant, lush display of foliage for up to 2 weeks indoors. Simply move the pot outdoors to encourage the tree to flourish further.

Our real Christmas trees potted in sizes from 2 ft to 5 ft are a marvellous way to care for the environment while enjoying the Christmas spirit. Add some sparkle with luxuriant white lights to compliment the classically shaped tree with silvery needles and your Christmas tree will be ready to shine indoors or outdoors.
Read more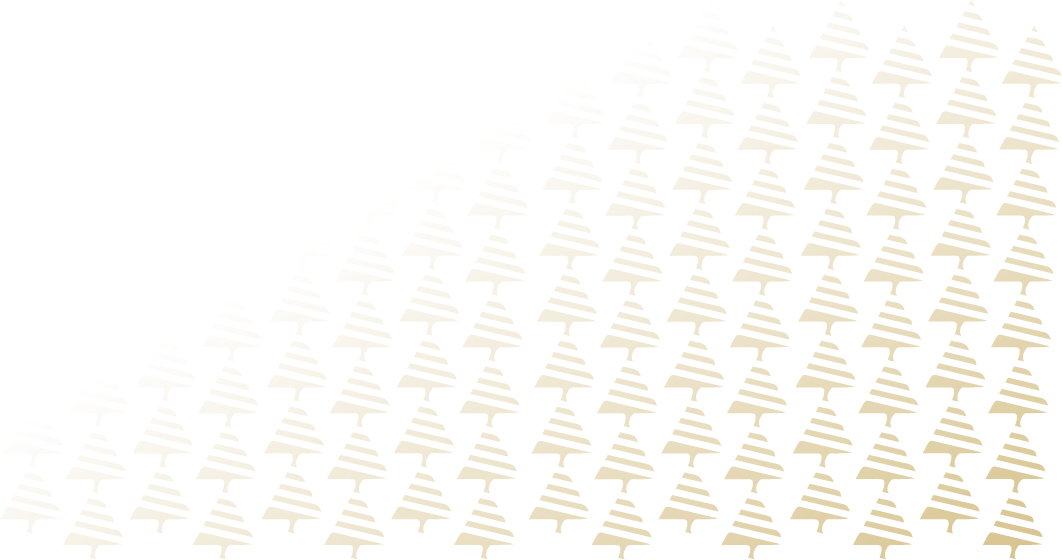 About Potted Trees
A pot-grown Christmas tree is an effortless way to create a traditional Christmas this year. Easy to decorate and even easier to maintain, the pot-grown tree is a brilliant way to bring a festive feeling to your garden.

Germinated and nurtured in the UK, each pot-grown Christmas tree is delivered in its own pot. If you keep your tree in its pot, remember to water it regularly to keep it looking fresh. Most pot-grown trees have a life of approximately 2-weeks when stored indoors, at which point the needles may begin to tremble! Move the tree outdoors to keep your Christmas tree growing year on year.

Our trees are available in multiple sizes, from small dwarf trees that are ideal for table décor to large 6-foot potted Christmas trees. All these potted Christmas tree varieties are average or low shedding, meaning they'll retain their waxy soft needles throughout the season. For our tips on how to look after your pot grown tree, read our blog.
Read more