Buying the Christmas tree is an unforgettable experience every holiday season! But despite your ambitions to create a stunning Christmas tree display, lack of floor space or low ceilings may be hampering your mood. If you have already purchased a big Christmas tree, this guide will help you make it shorter or narrower to fit your floor space. We've also thrown in some ideas to help you use Christmas decorations to give a small tree a big presence!
P.S. Whether you have a humungous tree, a table tree, or even a wall tree, this guide is only for real trees. The beauty of a real tree is that you can trim it to size and enjoy the unique natural beauty in your home. Attempting to cut artificial trees (particularly when you look at them with a blade) can create clouds of plastic dust and microplastics. Avoid where possible!
So, with your real fresh-cut Christmas tree at the ready, find a solution below that best fits your Christmas predicament.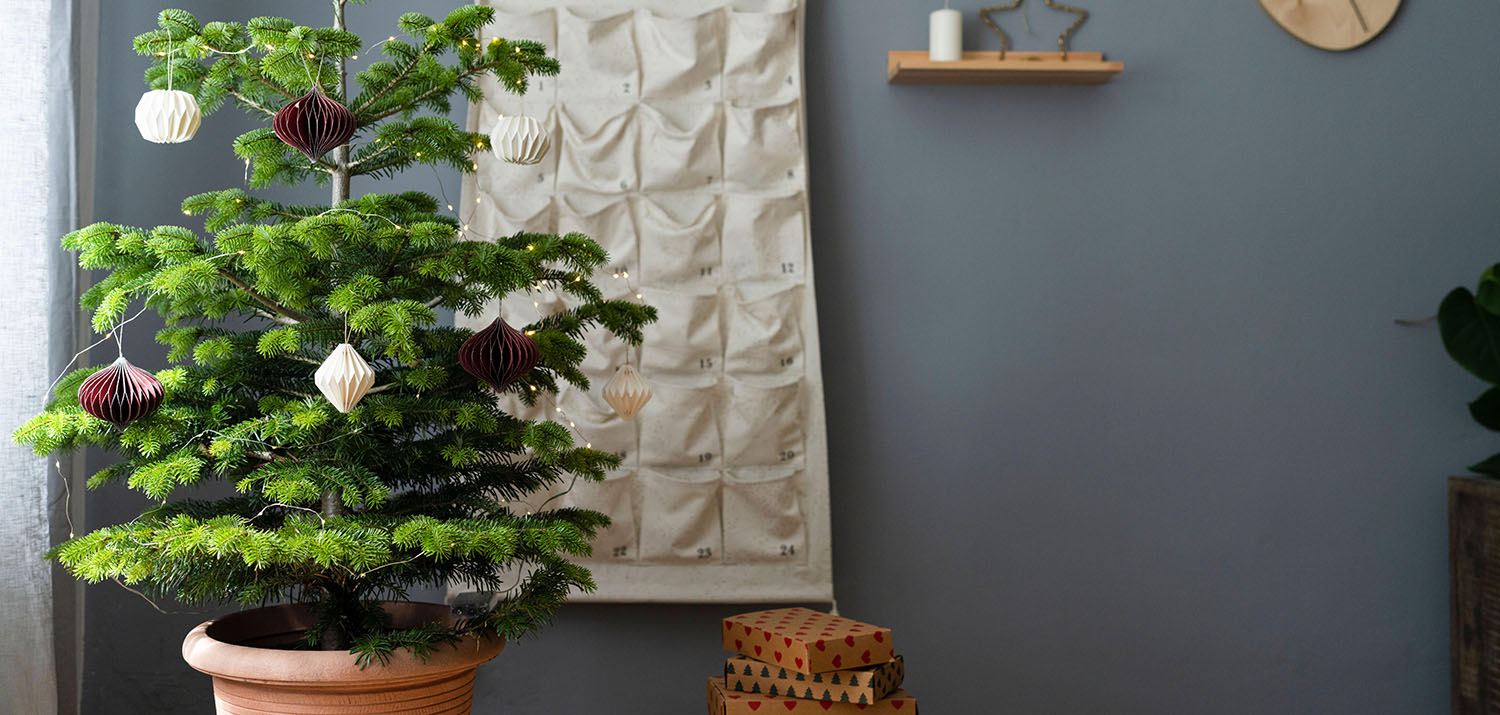 Trimming a tree to fit your floor space
Many people only think about ceiling heights when choosing a grand Christmas tree. However, even if your highest branch leaves room for the star on top, the bottom branches can still take up quite a lot of square footage. Always consider the floor space when choosing a tree for a small living room!
You can't create additional floor space, so the only solution here is to remove lower branches to create enough room for presents beneath the tree skirt. First mark the branches to remove with a permanent marker, so you don't end up cutting away too much of the real tree. Then, lay the tree down and use secateurs or a small handsaw to remove the branches as close to the main trunk as possible.
If you are yet to purchase your tree and know that your small spaces lack floor space, then we recommend a slim Christmas tree like the Fraser Fir or the pot-grown Picea Glauca Conica. These varieties have a narrow tree shape but plenty of holiday cheer.
Too tall? Make your Christmas tree shorter
If you have enough space at the floor level but lack the ceiling height to accommodate a taller tree in your small house, then we certainly recommend opting for a small Christmas tree. Even if you have 6 feet between the floor and the ceiling, choosing Christmas trees that leave a few feet spare in the small space will stop the festive spirit from becoming too overwhelming!
To reduce the height of your tree, measure it carefully and hold the tree firmly (an assistant elf is handy if you don't have a vice) so you can cut it straight. You may also need to remove a few extra bottom branches to provide more ground clearance. If you accidentally cut it at an angle, you can use one of our Christmas Tree Stands to hold it firmly so it won't sit slightly askew.
A smaller tree won't appear to be 'bursting' into the room, so don't be afraid to choose a shorter tree that looks natural in the space. Real trees that look natural at a shorter height include the Blue Spruce and Norway Spruce, compared to the Nordmann Fir which can look a bit globe-shaped at smaller heights.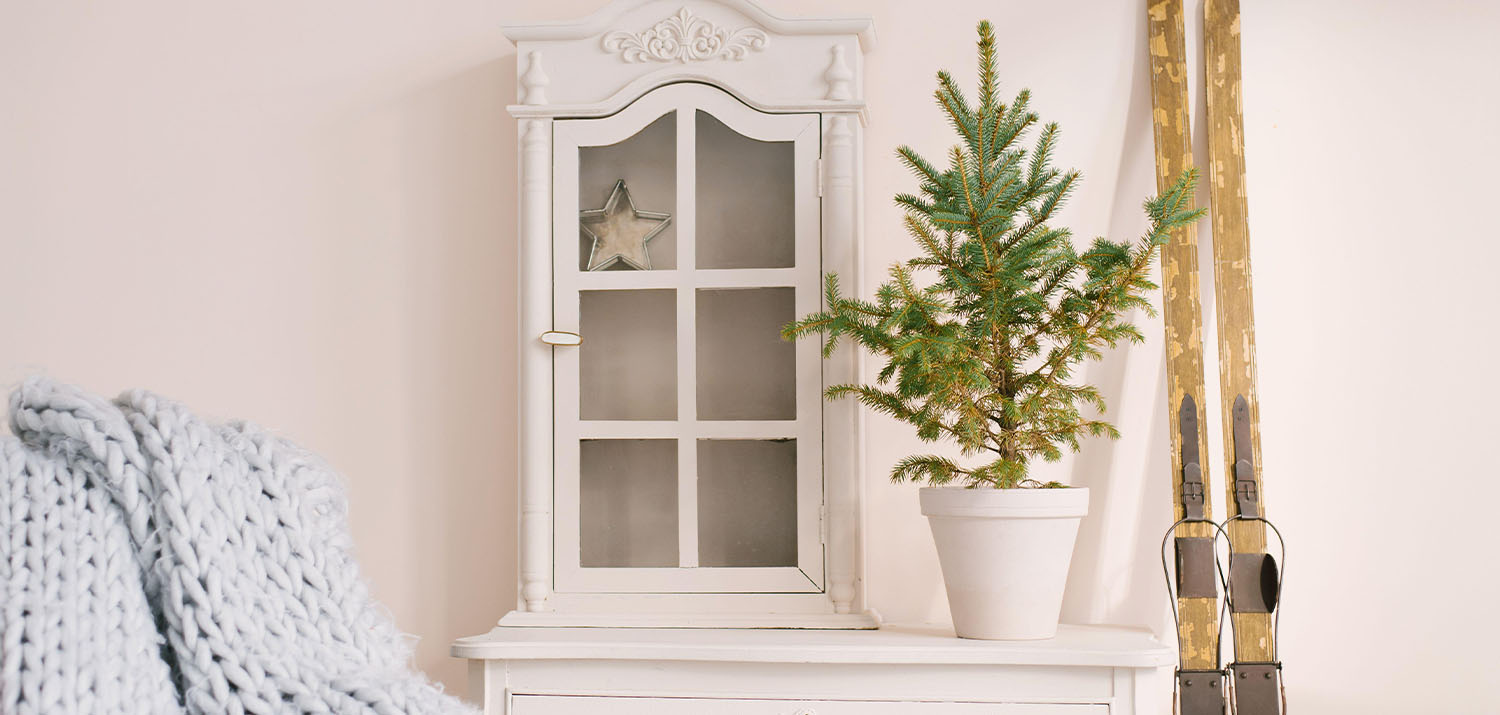 How to make your small traditional Christmas tree seem bigger!
Whether it's a lack of space or a lack of budget that has you considering a tiny Christmas tree this festive season, there are many ways to give it a big presence. A smaller tree - or even a sparse tree - can have a lot of charm. It comes down to:
Placement - choose the best possible tree placement. While a large tree can look good stuffed into a corner, smaller trees can become more of a focal point in the centre of the room. Don't be afraid to let them command more space.

Elevation - a large Christmas tree typically must be placed on the floor. A short tree, however, is best placed on a box, table or chair. Bringing the tree up to eye level helps it establish a presence in a large room.

Zoning - in small spaces, moving around furniture or placing a tree in an out-of-the-way spot may be unfeasible. So, use a patterned rug to place under the tree (or the table on which it sits) to create a distinct zone in your room. This is a neat interior design trick!

Decorations - finally, to create a festive touch that looks natural and enticing, stick with simple ornaments. Cramming all your baubles onto a small tree instantly gives the wrong impression. Be selective and above all, don't let your branches droop with the weight!
Choosing the right Christmas tree size
If you are reading this guide to draw inspiration, then you can make the wise choice of choosing the right main tree size for your small living room. Most rooms in the UK have a ceiling height of 7 or 8 feet (up to 2.4 metres), but we highly recommend using a measuring tape to double-check. Note down the height of the room then take off 1 to 2 feet - this is the maximum height you should choose. You should also measure the floor space - don't just assume a small Christmas tree will fit beside the cosy corner couch!
For an alternative tree that has a small footprint but just as much festive cheer, explore our tabletop tree range this year. These tiny tree varieties are ideal for dining table centrepieces, side tables, or even the mantlepiece over an electric fire. Like all our real trees, they have that verdant Christmas tree smell and all the magic you have come to expect from Christmas Trees Direct.
Three small Christmas tree ideas
If you have decided that small trees are the way forward this year (or you even want to decorate a house plant for Christmas) then you'll love these small Christmas tree ideas!
Mini tree for the side table
Tables are perfect for smaller trees. Wrap the small table with wrapping paper to mimic a gift, or just bring two chairs together and secure with festive ribbon. If you choose a tabletop tree for the coffee table, you could even run a train track around the tree base for the Polar Express. With a tabletop Christmas tree, opt for filler ornaments that won't weigh it down and save the full-size ornaments for a main tree or get creative - hang them from the ceiling!
Outdoor porch tree
A small Christmas tree is not just for indoors. You can also place a real tree in small spaces outdoors this festive season, like on the porch or balcony. A small tree or even a wall tree looks lovely by the front door to greet guests, for example. You could even use fake snow to create a white Christmas look. Just remember to choose outdoor-safe fairy lights and avoid simple wooden ornaments in favour of sturdier, waterproof decorations.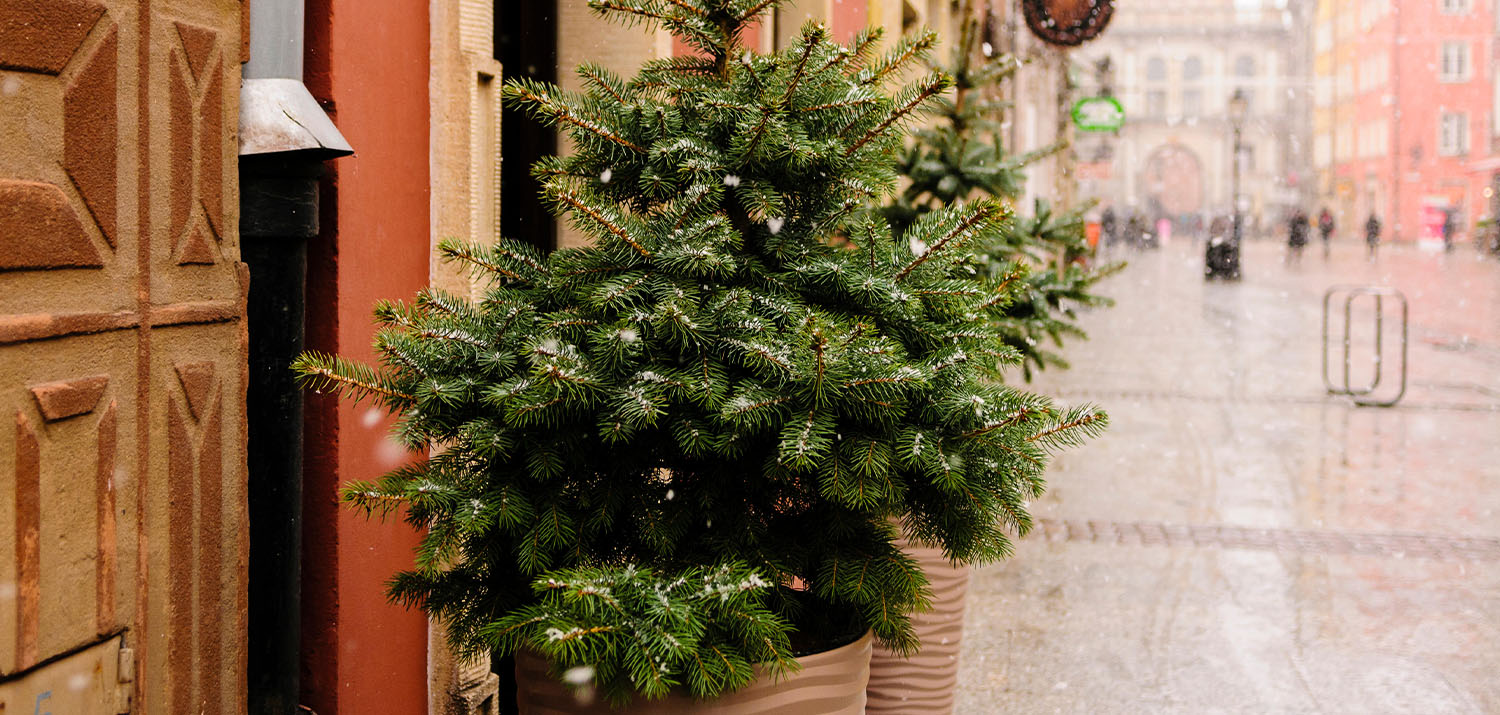 Dining room tabletop Christmas tree
Finally, the dining room tabletop Christmas tree. This tree can pack as much festive cheer as a large Christmas tree even from a small room. Whether your dining table is in the kitchen or a separate room (or even pulls out into a small living room) you can bring some Christmas magic to the space.
Whenever you sit down for breakfast cereal, the kids do their homework at the table, or you invite guests over for dinner, this tree will be eye-catching and ready to make a good impression. Match the decorations with a simple garland for extra points!
For more Christmas tree ideas, explore Christmas Trees Direct guides.
FAQs
What size Christmas tree is best for a small room?
Rather than squishing a large Christmas tree into a small living room, opt for smaller Christmas trees. Most UK rooms have a ceiling height of around 7 or 8 feet, leading people to choose a tree that's 5 or 6 feet tall. However, in narrow or generally small rooms, these trees will still take up a lot of floor space. So, look for trees that are 3 to 4 feet tall, as they have a narrower circumference. You can always place the tree on a box or table to bring the height to eye level.
Where should you put a Christmas tree in a tiny house?
When you need to get a Christmas tree in a small space, we recommend opting for a mini Christmas tree that fits nicely on a coffee table or low-side table. For tiny houses and apartments, you should prioritise any cool spot that's away from heat sources. This may mean reorganising the furniture, but it will keep your branches sprightly until the new year!
How do you arrange a room around a Christmas tree?
First, Christmas trees can't be placed just anywhere. They should be away from a heat source (e.g. radiator) and not block any access to areas of the room. Most homes place their tree in a small corner or out of the way. You can rearrange your furniture to make room - remove the side table or floor lamp and direct the furniture so sofas are facing the tree, to create a cosy atmosphere.
What should I do if my Christmas tree is too big for the room?
If your tree is too big for your space, you can try removing some lower branches, to create a narrower tree. You can also see off the base of the tree to make it shorter. Another more drastic option is to remove branches from one half of the tree, so it can be pressed more closely to a wall or corner.